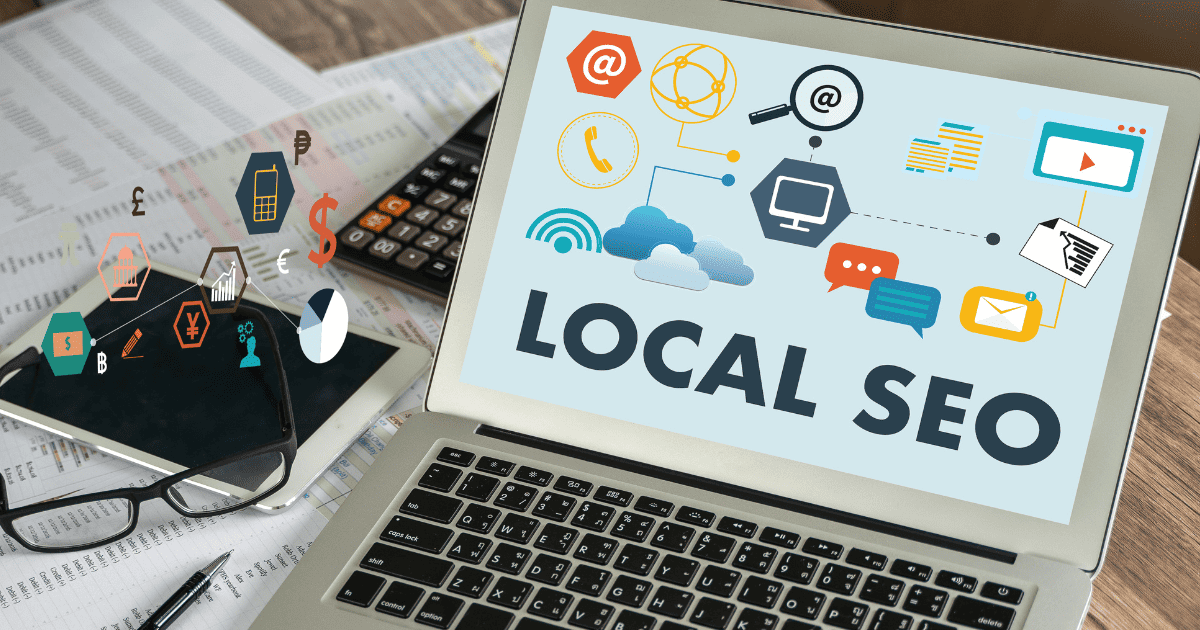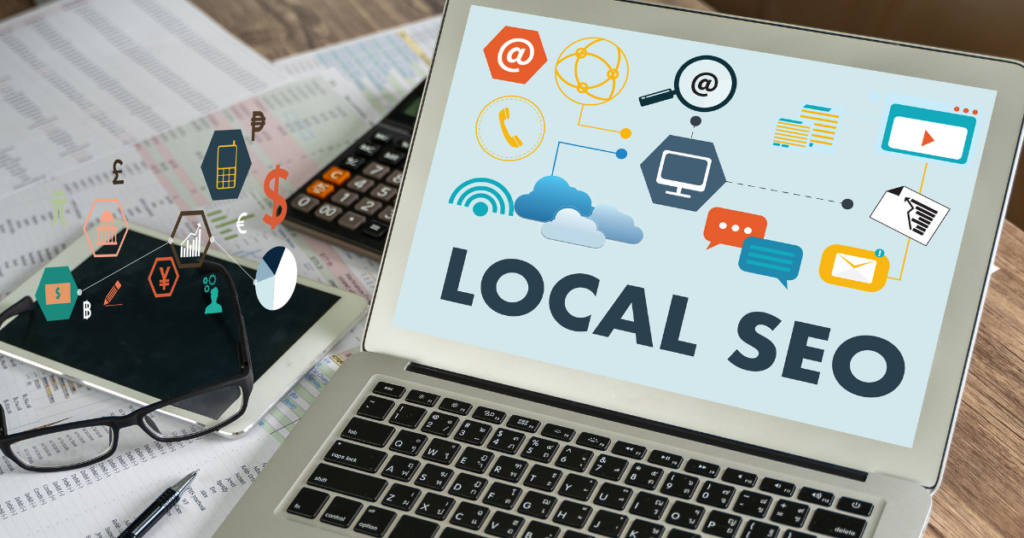 Local SEO is the process of optimising a website so that it ranks higher in search engine results pages (SERPs).  Hence, your website has a better chance of outranking competitors for key search terms in your local area.
Businesses with a physical address that implement local SEO strategies will reach more potential customers, resulting in a steady flow of leads and an increase in sales
Why you should pay attention to Local SEO
For service businesses in particular, local SEO is essential because your ideal customers are likely to be nearby. By optimising for local searches, you can attract customers who are actively seeking the services you offer.
When you create local content, engage on social media, build links, and list your business in appropriate directories, you are sending signals to search engines that your business is likely to be able to meet their requirements in terms of what you offer as well as your location.
Adopting a local SEO strategy will improve organic traffic, which is without a doubt the most cost-effective way to attract new business.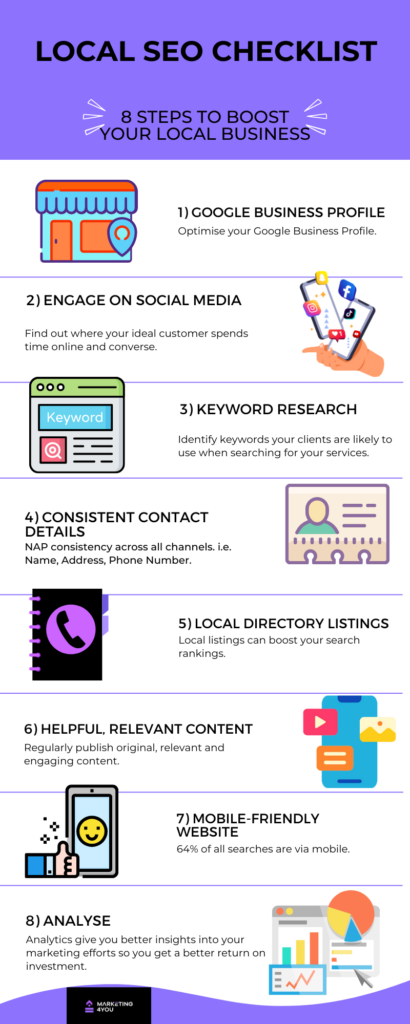 Google Business Profile
Perform keyword research so you include the terms your ideal customer is searching for on Google. This includes your business name, website and online content
Add high-quality, along with appropriately sized photos and videos
Encourage customer reviews and respond to them promptly. Don't forget to always respond to negative comments.
Post updates and promotions/offers regularly. The posts should be conversion-focused and include a relevant image
Verify and regularly update your business information, including opening hours, holidays, and contact information.
Lastly, find out how to optimise your Google Business Profile (formerly Google My Business) in our previous blog. In addition, there is a link to our Google My Business Checklist download.
Social Media
Work out where your ideal customer spends time online and post consistently on the most appropriate platforms.
Keywords
Optimise your website for the best keywords. This requires research, so you need to work out which keywords are most popular and relevant to your category of business.  These keywords should then be used in your content and, where appropriate, across your website pages.
E.g. Let's say you are a solicitor with a legal practice in Cork. By optimising for "Solicitor in Cork" or, if you specialise in personal injury, "Personal Injury Solicitor in Cork," you can attract local customers who need your services.
There are lots of online tutorials available on how to perform basic keyword research as well as free keyword research tools.  Useful resources include: 
Consistent Contact Details
NAP – (name, address, and phone number) across all your online assets. E.g.
Website
Google Business Profile
Local Directories
Social Media
Directories
Check that your business is listed in local and industry-related directories. E.g Golden Pages, Hot Frog
Content
Create relevant, helpful blogs, videos, infographics etc. Helpful and engaging content will help Google and other search engines find and index your content. Customer case studies, tips and localised content will help to boost your search ranking results.
Local SEO strategies will benefit most businesses, but in particular, those that provide services to customers in a specific location or have a physical address. Examples include, but are not exclusive to, those listed below.
Professional Services: Solicitors, Accountants, and Estate Agents
Medical practitioners: Dentists, Orthodontists, Physiotherapists, Health Coaches
Service-based trades: Electricians, Landscape Gardeners, and Plumbers
Don't let your service business get lost in the vast expanse of the internet.
Implement local SEO strategies today to improve your visibility and attract more local customers
Ready to take your business to the next level with local SEO?