Understanding the Benefits of engaging a Local Marketing Agency
A local digital marketing agency specialises in helping businesses connect with their target audience. They understand the local marketplace and what drives consumer behaviour enabling them to develop marketing strategies tailored to your specific area of expertise.
Furthermore, by collaborating with marketing professionals who have in-depth knowledge of the local market, you gain a competitive edge and the ability to reach your audience in a more impactful way.
What does a local marketing agency do?
Local marketing agencies play a pivotal role in connecting businesses with their local community. The combination of local knowledge, digital marketing, and general marketing techniques boosts website and foot traffic, leading to new enquiries, increased revenues, and profits.
Search engines like Google are increasingly prioritising local results in order to give the searcher the most relevant information.
Ideally, the local marketing agency you engage with should be familiar with your location.  It is equally important that they understand the unique characteristics of your target market so they are in a position to recommend marketing solutions that meet the preferences, needs, and behaviours of your ideal customer.
Additionally, local competitive research will identify why competitors are ranking higher in local organic search and the Local 3 Pack for your target keywords. Since most consumers do not go beyond Page 1 of search results, it is important to know who your competitors are and why they are ranking better than your business.
A digital marketing professional will have insights into how to carry out this analysis and create engaging content that will give your business a competitive advantage.
In this blog, we look at the significance of local marketing, the services offered by local marketing agencies, and how they can implement both digital and traditional marketing strategies to help your local business thrive.
Local marketing is where a business focuses its marketing efforts on reaching potential customers in their local town or geographical region.
The goal is to heighten brand awareness of your products and services within your target market.
Depending on your niche, this could involve implementing strategies to
Drive relevant traffic to your website

Generate enquiries 

Stay ahead of your competition
Heighten brand awareness 

Increase visits to your business premises.
The diagram below illustrates the potential to gain market share for businesses that choose to invest in local SEO.
Nearly half of Google's daily searches have local intent. Furthermore, by paying attention to online reviews and Google Business Profile the opportunity increases.
Local Marketing Strategies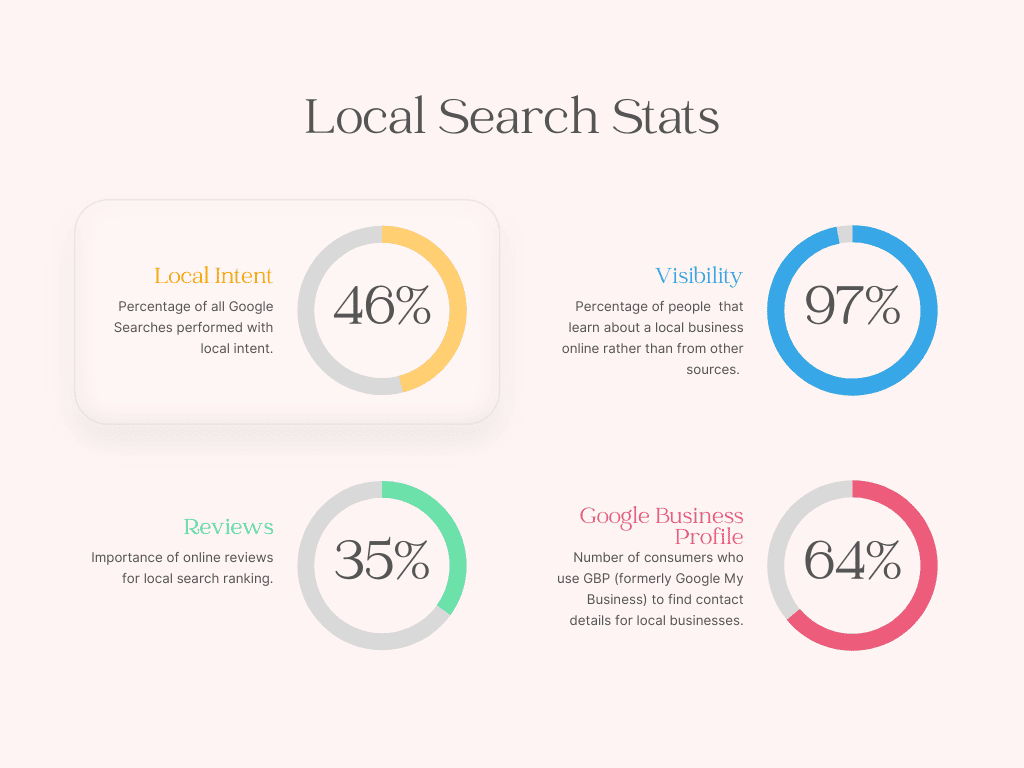 Creating an attractive website is not enough.  The challenge lies in how to make sure your ideal customer finds you when they search online.
Word-of-mouth and referrals are great ways to get new clients. Equally important is the need to create focused digital marketing strategies that will keep your company at the forefront of your target audience's minds.
Below are some key digital marketing and local marketing strategies to get your business noticed.
Local SEO

Local keyword research

Local listing and directory services

Better user experience

Google Business Profile

(formerly Google My Business)

Setup and optimisation

Regular flow of photos

Populate with photos and posts

Review management

Social Media Marketing: Is your ideal customer on social media? If the answer is yes, you also need to be there.

Facebook

Instagram

Linkedin

Paid Social Media Advertising
Content writing

Blog writing

Case Studies

Tips: Be helpful

Copywriting

Website content: well-written, SEO-friendly and helpful content improves ranking and builds trusted relationships with your audience.

Email Marketing

Build a local email list (you own your email list; you don't own your followers on social media)

Email is a cost-effective medium that facilitates regular and consistent communication with your customers and prospects (newsletters, product updates).

Additionally, always track and analyse what worksand what doesn't!

Event planning and execution

Community engagement 

Sponsor a local event

Build local partnerships
Driving Leads and Sales through Local Brand Awareness
Local marketing agencies leverage many digital and traditional marketing channels to propel your brand's visibility within your target market.
Typical marketing tactics include the following:
Local search engine optimisation (SEO)

ensures your business appears prominently in local searches.

Social media marketing: depending on your niche, this could be, for example, LinkedIn, Facebook, or YouTube.

Listing in local directories (citations)

Positive online reviews are undoubtedly one of your business's most powerful assets. A consistent review management strategy is essential.
A focus on these digital channels will increase your exposure to your target market.
Also, including local terms that resonate with your target customers will help rank your business ahead of the competition.
Working with a local marketing agency can transform the visibility of small to medium-sized businesses, leading to increased sales and growth.
We invite you to reach out for a consultation to learn more about how our digital marketing agency can help you achieve your local marketing goals.
Together, we can unleash the power of local marketing and propel your business to new heights.
Click Here to avail of a free 30-minute marketing consultation.