You may have heard the term Digital Marketing, but do you know what it is and how you can use it to your best advantage?
Originating in the 1990s, digital marketing has changed the way businesses advertise their products and services and has proven to be an effective way to promote your brand and connect with existing and potential customers.
A term used to describe marketing using the internet i.e. websites, social media, email, blogging, search engine optimisation (SEO) and more, Digital Marketing can be conducted on any electronic device from computer to smartphone. In simple terms, Digital Marketing is an easy and convenient way of letting people know about your products and services and a great way to grow your business online.
Why Would Your Company Need Digital Marketing?
If you surf the internet, you will know that not only is it packed full of information, videos and advertising but it also provides the opportunity to reach millions of people and create business relationships – and you don't even have to be in the same country. Digital Marketing helps you find people who are interested in your offering and enables you to interact with them.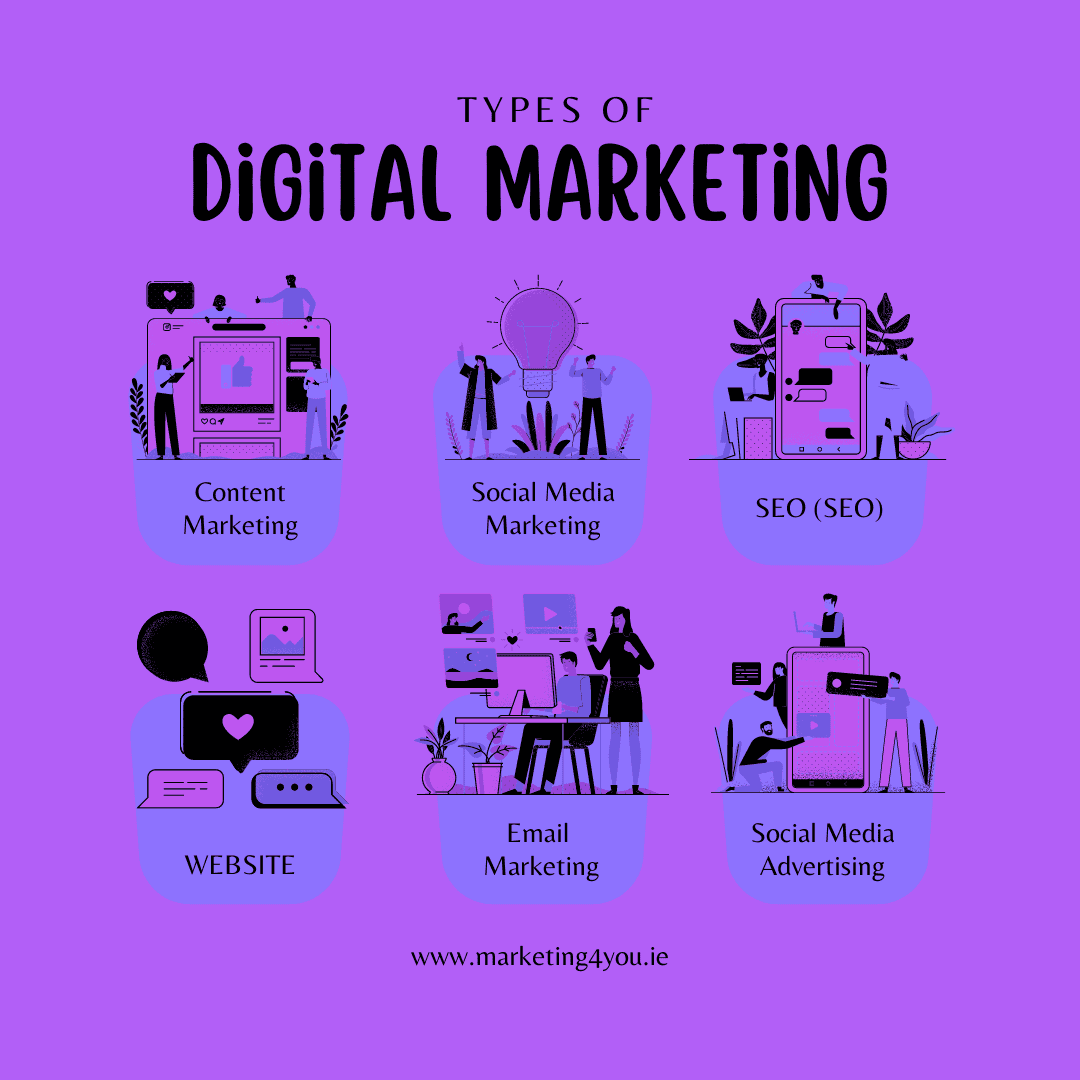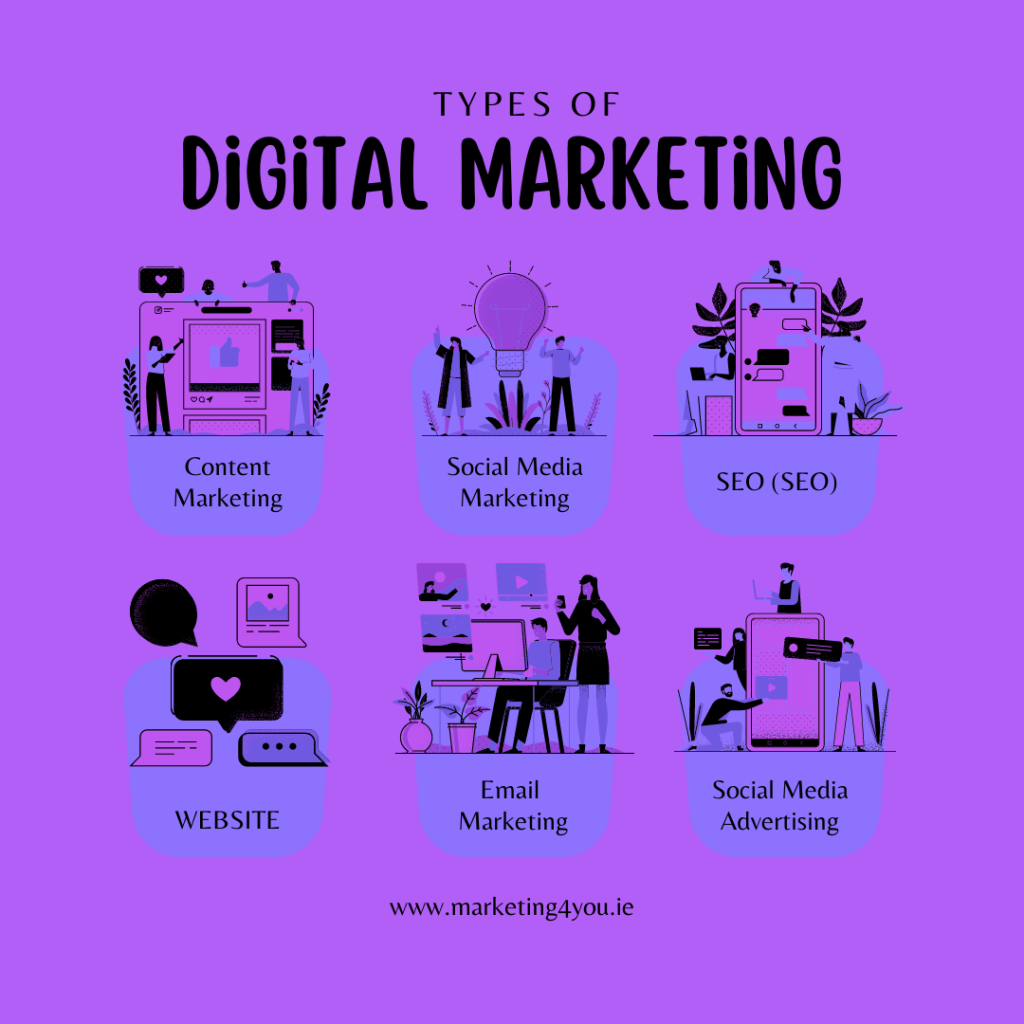 Different Types of Digital Marketing
There are many forms of digital marketing, but the major types include:
Website Marketing – having a website is a good way to showcase your products and services and should be fast, mobile and easy to use. Once your website is published online, you need to consider how to promote your website in order to get more customers visiting.
Social Media Marketing – this is one of the most popular forms of digital marketing and not only a great place for friends to connect but it is also a fabulous space for brands to show off their products and services. With 56.8% (2021) (https://backlinko.com/social-media-users) of the world's population connected via Facebook, Instagram, LinkedIn, Tik Tok and more, social media can't be ignored.
Email Marketing – a cost-effective form of digital marketing, you can attract and retain customers by sending customised emails that promote your content, product and brand. Analysis of these emails demonstrates who has opened them, clicked any links within the text etc. Check out https://mailchimp.com/ to find out more.
Search Engine Optimisation (SEO) – when you search for your website on Google does it appear on the first page? SEO optimises your website, blog etc in order for it to rank well on major search engines – this will make sure potential customers can find you, which will therefore increase your leads. It is also important to note that Search Engine Optimisation is cheaper than traditional marketing strategies.
Content Marketing – however you choose to promote your business, you need to write the content of the website, post or email campaign well in order to get your message across.
Google Advertising – Google Ads is the place to grow your business, achieve sales, test new models and increase your brand awareness online. By getting in front of customers whilst they are searching for products like yours, you only pay for clicks to your website or calls to your business.
Social Media Advertising – allowing you to target a specific audience, social media advertising helps improve your brand awareness and drive quality traffic to your website. You can pay to promote blog posts, videos, or other content that you've already published on your brand's social media profiles.
How Can Digital Marketing Benefit your Business?
Digital Marketing is a powerful marketing tool and here's why ….
It is measurable – when carrying out any form of marketing, you need to know that it is working well for you and since everything on the internet runs on numbers and algorithms, you can easily check marketing analytics to measure things in real-time e.g. you can see how many people are looking at your posts, have opened your email, clicked links, replied, shared, commented and more.
Useful guides to understanding how your digital assets are performing include A beginners guide to Google Analytics from Moz and Facebook Audience Insights
You can choose your audience – with digital marketing you can be as specific or broad as you want and no matter who your target demographic is, you can usually find them online.
You can reach your customers wherever they are – digital marketing offers lots of ways for you to reach your customers at the right time and in any location. When you've identified your audience, you can send them personalised content that they will want to read. Paying attention to local SEO will help you to come out on top for local searches.
Customers start their buying journey on the Internet – people depend on the internet for everything, and they often start by researching products and examining the choices on offer – they may even find your business!
You can constantly update your message – when you create a leaflet, flyer, poster or billboard the message stays the same. When you advertise online you can change your message as and when you need to. Why not customise your message specific to the audience, gender, age or interest?
Global reach – digital marketing is not restricted to location – you can sell your products to customers all over the world if you choose to.
Building lasting relationships – digital marketing gives us plenty of opportunities to connect with customers and build lasting relationships – meaning they will come back to you time and time again and may even spend more in the future.
Where to Start with Digital Marketing?
Before you begin with digital marketing, it is important to create a Marketing Strategy as this can go a long way in ensuring your company gets the brand awareness it needs, but before you start, do some homework:
Define Your Goals – consider what you want to achieve. This could be anything from having more customers, appearing at the top of Google, gaining more conversions or something else. Deciding on your goals will help you identify the right digital marketing channels for you.
Identify Your Target Audience – not all people will be your ideal customers so make sure you consider who it is you want to target. Who is likely to be interested in your business?
Consider your budget – how much are you willing to spend on digital marketing? Set a budget before implementing any digital marketing strategy.
Identify keywords – what words would people search for when looking for your products or services? Identifying the right keywords will help improve your online visibility. There are lots of free tools available to help you e.g.
Create content – have a practice at writing content, show it to family and friends and see how they react. Keep testing until you've got it right.
Once you have implemented your digital marketing strategy, you need to measure performance, this means testing and tracking at every stage for example Google has a FREE analytics tool (https://analytics.withgoogle.com/) that will tell you about the number and type of visitors to your website.
Finally, digital marketing requires consistency and perseverance, so it is important that you keep your audience engaged with regular content.
We hope this helps with your understanding of Digital Marketing

If you are interested in implementing a digital marketing strategy into your business, call Marketing4U today to book a FREE 30-minute consultation. We work with small businesses and can tailor our service to meet your needs and budget.