Have you checked recently to see where your business ranks in Google search for your business type? e.g.
"Accountant in Dublin"
"Solicitor near me"
"Local plumber"
If there is no sign of your business on Page 1 then chances are you are not going to get a call from that prospect.
We all recognise that Google is the holy grail when it comes to internet searches. So, it's not surprising to find that
🔔85% of searches happen on Google – (Statista.com).
However, while featuring on page 1 of a general Google search may not be a realistic ambition for a small business, focusing on local search optimisation helps prospects looking for businesses like yours, in your local area to find you organically, without having to pay for Google Ads.
Don't get me wrong, Google Ads are an efficient way to generate a steady stream of leads but once you stop paying the leads stop.
This is why localising your business with the help of a Google Business Profile (formerly known as Google My Business) creates long term value.
Your content and activities accumulate to increase visibility and establish your business as a trusted source of information.
Google favours quality over quantity and paying attention to your Google Business Profile will improve your position in local search results leading to more enquiries and ultimately sales.
The Google algorithm determines where a business features in the search rankings and relies on
Achieving a top spot in the Local 3-Pack or Page 1 organic search results (see below) is where a local small business can compete and gain a significant advantage over the competition.
What does a Local Search Result look like?
Below are examples of the "Local 3 Pack" and organic results we all see every time we search for something on Google.
Google displays what it considers to be the best match for the search term based on the information available.
🔔 "Businesses with complete and accurate information are easier to match with the right searches." Google
Below is an example of the top results from a local search term "Solicitors in Manchester".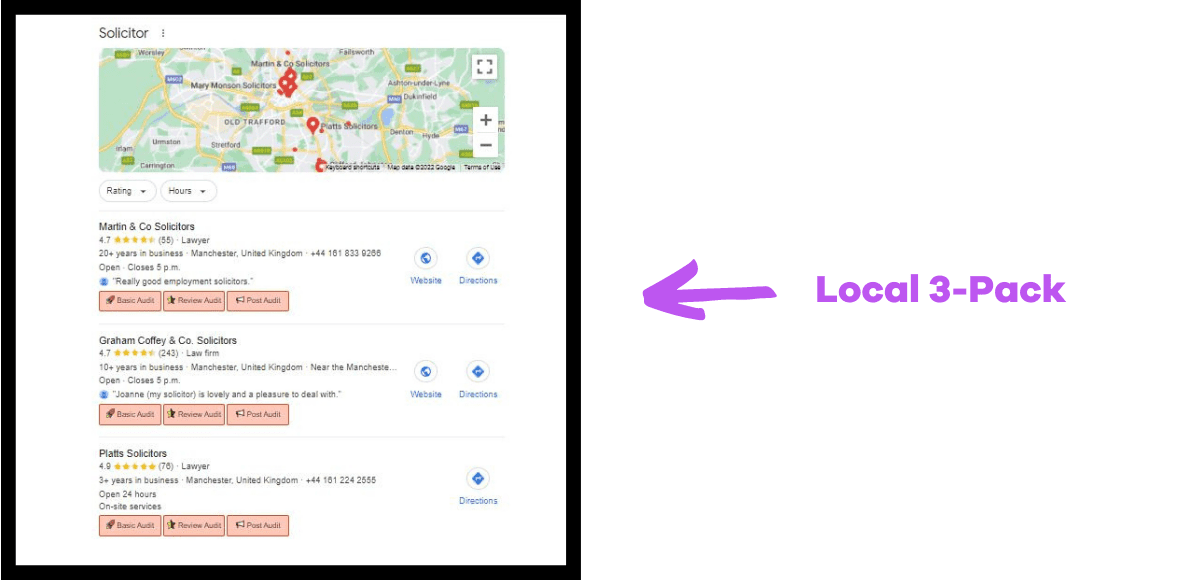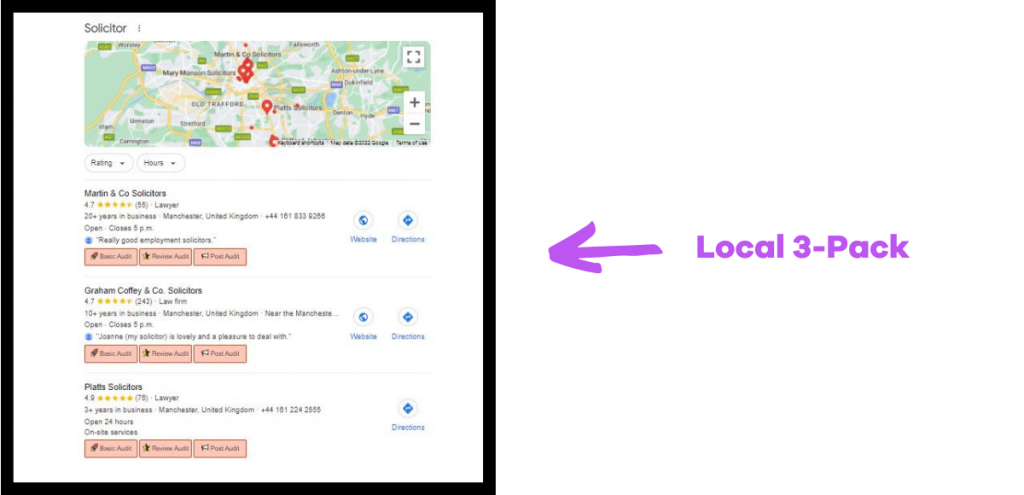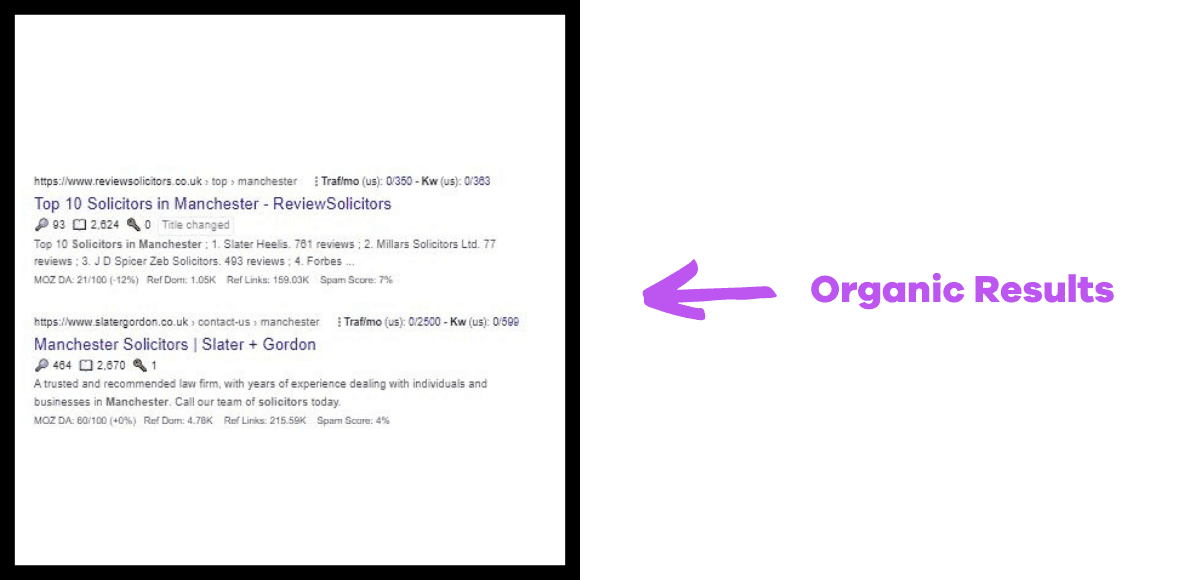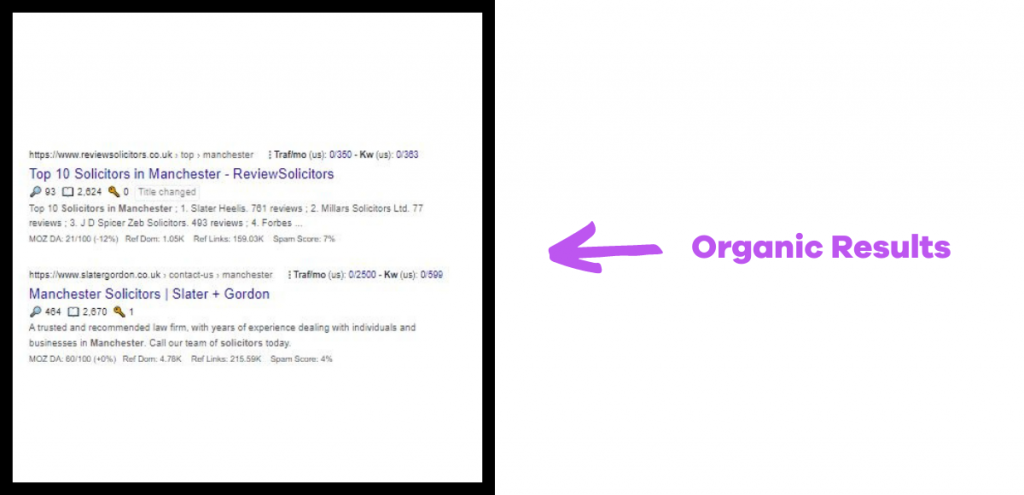 Both the Local 3-pack and organic results above are organic search results (i.e. unpaid). Paid ads feature at the top and bottom of the results page.
"Near Me" searches are one of the fastest-growing terms and this localised keyword has become even more popular as a result of the Covid-19 pandemic.
If you are a local business offering services to local consumers and/or have a local brick and mortar presence then optimising your digital presence for "near me" searches is key to generating new enquiries for your business.
🔔 Recent research by Local Enterprise Offices found that 82% of Irish consumers were more likely to buy local, either online or in-store, in 2020 compared to 2019.
So, what is a Google Business Profile (previously known as Google My Business)
A Google Business Profile is a FREE business tool that Google makes available to all businesses regardless of size. You can now manage your location, contact information, posts, photos, reviews etc from Google Search and Maps.
Go to www.google.com/business and follow the steps to claim or complete your profile. A Google Business Profile is a "must-have" for any business type but in particular, those who tend to have a client base in their local area. E.g.
Solicitors
Estate Agents
Restaurants
Accountants
Dentists
Retail Outlets
Any Service-based business
The Google Business Profile comes with a dashboard where you can access and manage your profile and update as appropriate. It is in your interest to keep this information current.
🔔 Verified businesses on Google are twice as likely to be considered reputable.
Your Google Business Profile is like a mini-website with key information about your business and should include:
Location
Opening Hours
Contact Details
Website Address
Products & Services
Reasons why your business needs a Google My Business/Google Business Profile.
An optimised Google Business Profile facilitates increased engagement with potential customers.
Most searches today take place on mobile.
🔔 A recent Google Report found that "60% of mobile phone users made contact with a business by clicking on the relevant contact details included in the GMB profile."
As outlined above Google is seeking to give the searcher the best match for their query. Google Business Profile provides a business with a platform to communicate with consumers and give them easy access to your essential information.
If they like what they see they are more likely to take the extra step and visit your website or contact you. Here's what they should see:
Reviews
FAQs
Messaging
Updates (posts about your products and services)
Photos/Video
All of this information can also be found from searches using Google Maps and Google Shopping.
This all does take time and to all intent and purposes maintaining your Google Business Profile requires a similar investment to maintaining any social media account.
However, how good would it feel to have a regular flow of new customers who found you on Google, and without paying for Ads?
If you want to grow your business, turning organic searches on Google Search and Google Maps into new customers is a smart move.
To help you get off to a good start we have created a Google My Business checklist that will guide you through the process and ensure that your profile includes all the important information.
Click Here to download your copy.
If you are strapped for time we also offer a Google My Business "Done for You" service so you can hit the ground running and start generating enquiries quickly.
If you would like to receive notifications about new blogs, tips and marketing advice sign up for our monthly newsletter here